Close
Two wins at the 2021 New Zealand Institute of Architects Canterbury Architecture Awards
2021 NZIA Canterbury Architecture Award Winners
94 Cashel Mall and Oxford Terrace House have each been awarded a NZIA Local Architecture Award.
Dalman Architects received two NZIA Canterbury Architecture Awards for 94 Cashel Mall (Commercial Architecture category) and Oxford Terrace (Housing - Alterations and Additions category). Oxford Terrace also received a Resene Colour Award.
94 Cashel Mall
"Acknowledging the past with a nod to Scarpa, this long, narrow building is a reminder of the scale and grain of pre-earthquake Christchurch. With the building having occupied its site for over a century, the owners were determined to rebuild their single-volume retail space, but needed to create the illusion of a second level to satisfy council directives. Clever massing of the Cashel Street façade with concrete, copper and glass achieves this, and also creates a strikingly crafted presence on Cashel Mall. Inside, a tall, oriel bay window draws light deep into the long floor plan and through high, notched steel portals that form the cross section. This is a lovingly crafted building that is true to itself, but looks to the future with a southern façade that admits further development possibilities."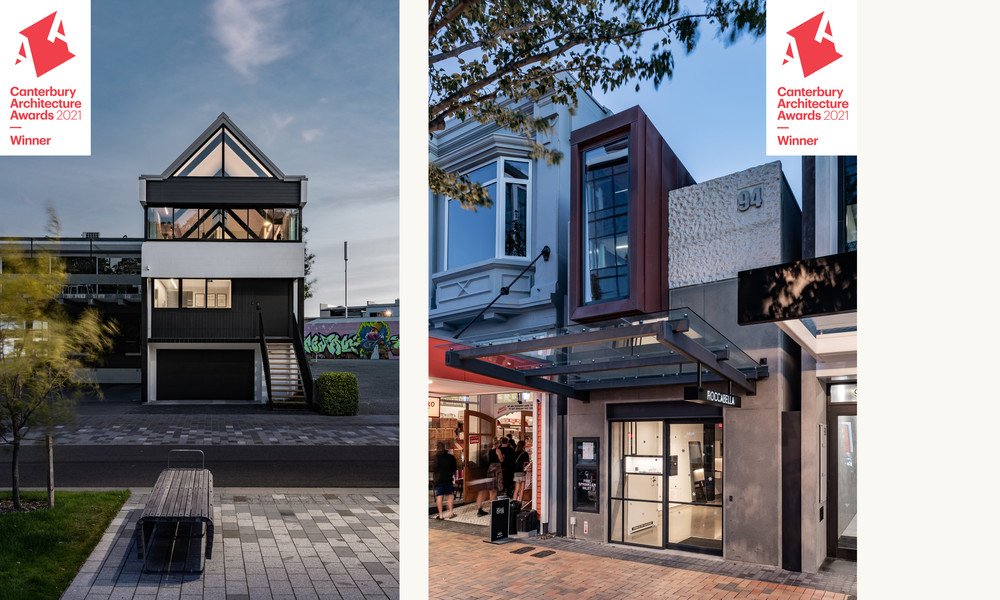 Oxford Terrace
"Built in 1979 and designed by Trengrove & Blunt to house their architectural practice, this two-storey, concrete-block, former office building is now an inner-city home. Located opposite Ōtakaro / the Avon River and overlooking the Oi Manawa National Earthquake Memorial, the repurposing of this building into a contemporary home is a fine compliment to the original architecture. By locating living areas on the top level and an office, art studio and workshop on the lower, this architect has made the most of Oxford Terrace's existing gifts. An extension to the rear has provided the amenities of a new garage and a garden terrace."