For 20 years our focus has always been on enriching the way people live, work and play through architecture.
Close
Style
Church & State
June 2019
With the recent fire at Paris' Notre Dame Cathedral, the Christ Church Cathedral rebuild starting, and speculation of a new Catholic Cathedral in Central Christchurch, I thought it timely to write about this building type.

The earthquakes damaged many of Canterbury's fine historic churches, and in particular it was the stone and brick churches worst hit. While the timber churches such as St Michael's in Lichfield Street and St James in Papanui were flexible enough to remain standing, most of the stone churches such as St Mary's in Merivale were damaged beyond repair. And, of course, some, such as the Durham Street Methodist Church collapsed during the earthquake.

After the earthquakes we have seen the construction of many new churches around the city, including the North Methodist Chapel Street Centre in Harewood Road and St Patrick's in Lincoln.

Here are some of my archtectural favourites of chapels, churches and cathedrals that I have visited around the world.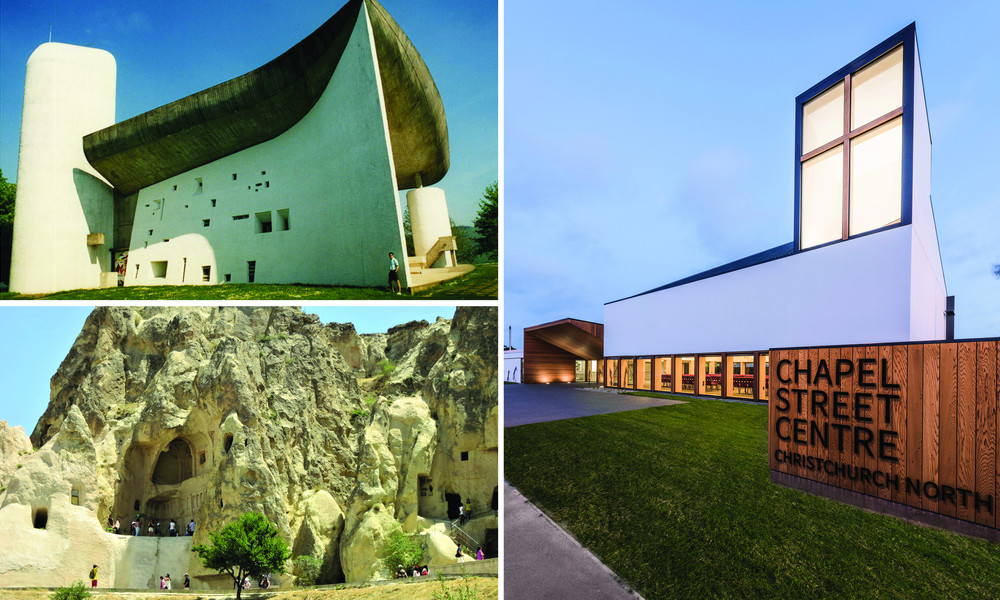 Sainte-Chapelle, Paris
Wow! While Notre Dame is grand beyond most cathedrals, it is Sainte-Chapelle around the corner that for me epitomises the Gothic desire for vertical free space and lightness of structure. It was built by Louis XIV in the 13th century. This royal chapel is more intimate, yet is still grand and awe inspiring at the same time. Fifteen stained glass windows, 15 metres high, create a special and unique quality of light that must be experienced to be believed.
La Sagrada Familia, Barcelona
On the grand scale, there is not much grander than this! Still under construction, La Sagrada Familia is architect Antonio Gaudi's masterpiece. The completion of the cathedral has been led for four decades by New Zealand architect Mark Burry. He has been amazed at how Gaudi over 100 years ago could have calculated the complex structural geometrics that they now have computers to help figure out. It is due for completion in 2026.
Cave Churches, Goreme, Turkey

In Cappadocia, central Turkey, there are a number of underground houses and chapels carved into the soft rock by Christians in the 4th century and onwards in order to escape the heat and also their persecutors. The cave chapel interiors were at one stage decorated with colourful frescos, but many have deteriorated over time. These modest holes in a mountain are in stark contrast to the last two chapels, but still served their function as worship spaces.
Notre Dame du Haut, Ronchamp, France

Any architect's list of favourite churches surely could not be complete without Le Corbusier's sculptural concrete creation in northern France. This is a pilgrimage chapel on top of a hill, and visiting is best by foot, walking up the hill from the small country town below. It was completed in 1954. When I visited a priest was giving communion, and when he snapped the wafer I felt the sound reverberate around the concrete interior (floors, walls and ceiling!) to the back of the chapel where I was, and into my whole being. An amazing experience created by great architecture.
College House Chapel, Christchurch
Designed by Miles Warren, completed in 1964 and located in the heart of the halls of residence off Waimairi Road, this chapel is a hidden gem. It is one of my favourite New Zealand buildings of any type and is a modernist masterpiece. Entry is via a very low lobby to a stair at the end, then climbing you turn around and emerge up into a tall rectangular space, lit predominantly from the sides: a memorable and meaningful journey with an architectural delightful destination: a peaceful and inspirational worship space. World-class.